Well, below is what I have been working on for the past week..
Anyone Familiar With Older GTA-VC & SA Mods Has Probably Seen This Car Mod Before!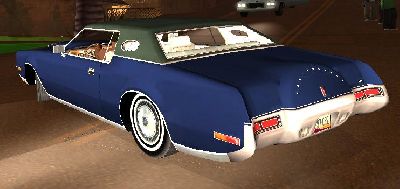 Original VC Mod By: RusLev
, Converted To SA By: Bad Religion!
Is Some Of The Modifications I Have Made Along With ALOT Of Scratch Modeling Done By: MYSELF!
1st Image Notes:
-A Look @ The Custom 28inch Deep Dish (9inch lip) "Deek" Designed Blade Rims (I Did Have To Edit The Original Wheel Well Housings To Allow The Clean Fit Of The Larger Rims-So That It Did NOT Have To Have The Suspension Raised "Drastically").
-- 3D Modeling Start Of What Will Be A CUSTOM "Center Console" Subwoofer Enclosure.
---A "Simple" Roof/Body Edit To Make It A "Targa" Top (Still Some Work Left To Do On It).
Below!:
I Reshaped The Inner Trunk To Give It More Space, Which I Will Be Using To House "Another" Custom Audio Setup Made By Me...:P
Below:
Scratch Modeled Frame & Rear Axle, (Both Of Which Are Modeled By MYSELF). I Still Need To Finish The Front Before I Model The Shocks & Springs..
Below:
Here You Can View The Front Section Of The Cars Frame, & Automatic Transmission Along With a Custom Oil, Starter & Exhaust Header Ends. All Of Which I Modeled 100% By Myself.
My Oil Pan Model Is Actually My Attempt To Replicate The Real Aftermarket Oilpan Avalible For This Engine In "Real" Life...
Below:
The Hardest & Longest Part Of This Custom Lincoln..
My Scratch Modeled - 460 Cubic Inch Big Block Ford V8...
Nothing About This Engine Is "Factory" Other Than The 460Cubic Inch Diameter...
All Custom Billet Style Pullys, Custom Edelbrock Carbs & Intake Manifold, Custom Edelbrock Style Aircleaners, Valve Covers "WITH" 3D Ford Logo..
I Did My Best To Keep The Poly Count Down, My Last Count As It Stood In "THIS" Picture Was Just Under 47,000 Polys..
(P.S - Sorry About My Shitty Rendering Skills... Deal With It.. I Can't Do Everything Perfect ALL The Time.. Just 99.9% Of The Time)
Below:
A Preview Of The Ford 460C.I V8 In The Lincoln's Work In Progress (Yet To Be Finished) Engine Bay..
Now:
I Still Have ALOT Of Work Left To Do On This Mod, So I Will Keep You All Updated From Time 2 Time.
Plans:
New Modeled Fully 3D Grill (To Replace The Low Poly Shit Job Texture They Originally Had)..
Some 3D Re-Working Of Thier Original Front & Rear Bumpers...
The List Goes On..lol
I Am However Taken A Short Break From This Mod W.I.P, To Allow Myself A Few Days To Practice Some Ingaming Since It Is A Weak Point I Have Yet To Master..